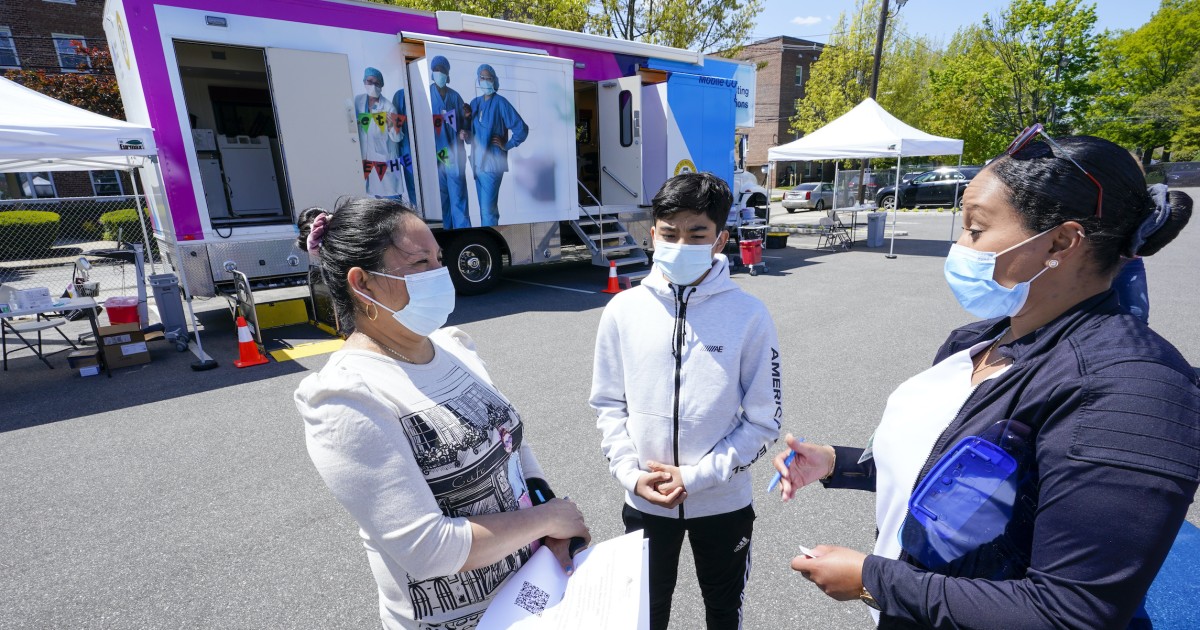 Several state and local officials have introduced a range of incentives for getting vaccinated in an attempt to win over holdouts.
Vaccination rates have slowed in recent weeks due to lower demand for the shots. Roughly 1.9 million doses were administered daily over the past week, compared with an average of roughly 3.4 million shots per day this time last month.
MANY STATES AND CITIES ARE WARY OF LIFTING MASK MANDATES DESPITE CDC BLESSING
Ohio Gov. Mike DeWine announced a cash incentive earlier this week that will give five adults who have received at least their first dose of vaccine the chance to win $ 1 million through a new state lottery system funded with coronavirus relief dollars allocated to the state by the federal government. The first of five drawings will take place on May 26.
"I know that some may say, 'DeWine, you're crazy! This million-dollar drawing idea of yours is a waste of money.' But truly, the real waste at this point in the pandemic, when the vaccine is readily available to anyone who wants it, is a life lost to COVID-19," DeWine said on Wednesday.
Ohioans 17 and under will also be eligible to enter a lottery system that could win them a full scholarship to a four-year state university in Ohio.
In Maryland, Gov. Larry Hogan announced earlier this month that state employees can get $ 100 if they choose to get the vaccine. Hogan has also encouraged businesses to offer their own incentives for customers to get the shots. Ledo Pizza in Maryland will give out a maximum of 10,000 small pizzas in May and June to every customer who can prove he or she has gotten at least one dose.
Other states are offering unique nonfinancial incentives as well. New Jersey's Brewers Guild partnered with Gov. Phil Murphy to jump-start this month's "Shot and a Beer" program, which would allow New Jerseyans 21 and older to bring their proof of vaccination to any brewery for a free beer. Connecticut Gov. Ned Lamont has instituted a similar incentive that would allow residents who have received at least one shot to get a free drink at restaurants during the last week of May when they show proof of vaccination.
FULLY VACCINATED PEOPLE DON'T NEED TO WEAR MASKS INDOORS, CDC SAYS
Some states will also entice people with activities that have always been out of reach. NASCAR fans in Alabama, for instance, will have the opportunity to drive their own cars on the Talladega Motor Speedway on Saturday when they agree to get vaccinated or tested for the coronavirus once they've driven two laps around the track.
The city of Chicago has developed its own concert series incentive program that would invite fully vaccinated Chicagoans to attend free performances across the city as long as they can provide proof that they have received both doses of a two-shot vaccine or the one-shot Johnson & Johnson vaccine.
"The pandemic has had a huge impact on arts and culture in our city, and I know residents and artists alike are ready to move past the past year and get back to making and listening to music together," said Mark Kelly, commissioner of Chicago's Department of Cultural Affairs and Special Events. "These events are a great way to remind people of the importance of vaccination. Get vaccinated and get your free ticket."
President Joe Biden applauded governors' creative efforts to boost vaccine uptake, particularly in young people who feel less urgency to get the shots.
"The idea of engaging in and offering benefits, like everything from fishing licenses on … and free tickets and vouchers … my guess is that's probably going to work," Biden said on a call with governors this week.
CLICK HERE TO READ MORE FROM THE WASHINGTON EXAMINER
To date, the United States has administered more than 268 million doses since the rollout began in December, enough to give about 59% of the adult population at least one dose. More than 46% of adults have now been fully vaccinated.